When times are good, marketing is necessary for most businesses, when times are difficult, (in my humble opinion) it's imperative for their survival!
I put a video together on my facebook page if you'd rather watch than read this blog, but put simply these are free and really simple ways businesses could promote their products and services while they're in temporary lockdown (due to Covid restrictions if you're reading this in 2021 or beyond!)  I did it because my background is in marketing and I think that's something that many businesses are in need of right now
Just to set the scene – 14 years ago, I took up my first marketing management position as the marketing manager for Ireland in a global cash management company. I learned so much about offline and corporate marketing but arguably the most important lesson was the progression of online marketing at that time, and its ability to perform better for less expenditure. My following position was with a County Down based brewery where we marketed a range of range Ale's into 14 states across America. I will always be thankful for that forward-thinking employer who encouraged us to continue a quest for knowledge in online marketing at a time when it was unheard off in most companies. I later went freelance again and got to develop it with many other businesses and industries over the years. Most of my working life now is spent helping other people work from home, (and should someone want info on that, drop me a message.) However the purpose of this blog is to share a brief insight into my background to better explain why I'm offering marketing tips and advice for businesses trying to navigate through Covid enforced regulations; meanwhile finding and connecting with their customers again to resume business 'as usual'!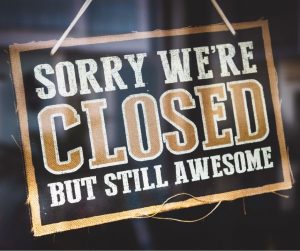 Just over four weeks ago, all close contact and hospitality businesses in Northern Ireland had to close their doors for a month, then on Friday they were told to remain close for another week. I can't imagine the anguish business owners are going through at the minute while for some, the busiest season of the entire year slips past. So, I know that most people on my blog have an online business or at least an interest in one, however the following tips are geared towards businesses with a local premises, serving a local community (wherever that is). I know that some (many hair dressers and beauticians etc) will have a list of customers to get through as quickly as possible, while others face the challenge of building their clientele back into monthly or regular clients as opposed to infrequent ones which they have been forced to be this year.
Let's dive in: Free ways to market your local business and get more customers, or build your clientele backup after reopening.
This goes without saying but… Ensure your business is on social media. For some businesses, certain platforms can be more beneficial, for instance Instagram is more visual and for businesses like nail technicians or make-up artists, it can allow them to display their portfolio and connect with potential customers leading with service first.  However, both Facebook and Instagram work wonders for finding, connecting and engaging with customers. If Facebook works for you, make sure your address is listed on your Facebook Page so you come up in local searches when someone is actively looking for the service you provide. I can go into more detail on. LinkedIn benefits in another video if that's of interest but most of the businesses affected are largely business to consumer focused.
For exactly the same reason as number 1, ensure you are registered and showing on google. You can add your website, phone number, location and an image for free. It's so simple, lots of businesses can overlook its importance. Just go to 'google my business', click on 'get on google' and follow the prompts from there.
Using Instagram hashtags is a powerful tool to display your portfolio or products straight to the very people who are searching for them, but this is often under-utilised. Don't just go for the generic 'broad' hash tags, choose 'narrow' hashtags that include your location, the style of your work, and the terms your customers would be searching for to find that service or product. For instance, say you are in the hospitality industry and promoting Santa and Christmas experiences over the Christmas period. Put yourself in your customers shoes, who are they and what terms are they going to be using to find the service you are offering. Include your town, (tag your location too) Santa visits in x town, sleigh rides x town, sleigh rides x county, your venue name and as many other ways you can think off to describe your service as you can imagine. If you're a beautician and you know people are going to be looking for Christmas nails so go back through your pics to last years favourites, repost them using your town and Christmas nails in the hashtags! There are different recommendations on the number of hash tags you can use but 28 is the recommended amount so as I mentioned above, make a list of everything your think your potential customers would search for if they were looking for the services you provide.
Only 10% of Facebook users use stories, this means you can remind your customers of your existence, and your brand at ZERO cost just by using them. Instagram has a 60% adoption rate for stories in comparison however both are very worthwhile to help connect with your potential and current customers. If you're wondering what to put in your stories, it's popular to use your news feed as your shop window and formal branding and your stories as the 'backstage pass' it's also a fabulous sales funnel when you use things like polls and calls to action. So many businesses have put in massive effort to create safe spaces for their clients to safely visit their premises, photos of these installations taking place to let customers know for instance that you're working away behind the scenes to keep them safe on their return.
Facebook Groups are being used by many home business owners as a way of keeping in touch with their customers and building community without contacting them directly and individually.  If you don't have a group for your business, think about whether it's a good fit for you.  It will need daily posts (you can post less frequently, but it will need monitored daily,) however you can educate your customers on other services you provide, increasing their customer value and inform them of special offers and benefits much easier aswell.  You can also incentivise the customers in your group to invite friends and grow your audience in an easy and fun way!
Benefits not features. On social media, you're connecting with cold market prospects, remember they aren't looking for features if you sell a service. They're looking for the benefits they'll receive through purchasing it. So when you're talking about your service, using this jargon helps customers connect with how you can help them.
Testimonials are today's word of mouth marketing, ask your happy customers to leave you a review on your Facebook page, screenshot it and post it in your news feed and stories to share how good your services are to other people.
Facebook events are great for getting the word out about offline or online events. You can set them to have an offline location including your address, you can run them online and set the destination as a zoom event, or maybe you have a Black Friday deal, you can set the destination to a landing page on your website so you're driving traffic to it as soon as it is active and Facebook is sending them reminder notifications so it's doing some of the work for you!
Scheduling on social media is a powerful tool for time management. Most people know about it but how many actually use it! Beauticians, hair dressers, nail techs, who are arguably in their busiest season of the year – you have 4 working weeks left in the whole year. Why not spend this down time going through your photos and pick out 30 photos and schedule one a day to be loaded to your social media now. Once you've them scheduled you don't need to go in and upload them each day. Google 'creator studio' on Facebook and you can schedule both facebook and Instagram posts from there.
My last tip isn't free but it's too powerful (if done correctly) not to mention… Facebook advertising, this is of course paid but just to mention the power of the niche targeting on offer when you get the mix right. You can advertise to a specific demographic, in your postcode. For instance, soft play areas – I've heard of a few that had to close including one near us which is such a shame. If you are running a service like this, you could advertise on Facebook to mums of children under 3 for instance, who live in a certain postcode. How amazing is that?! Or if you have a restaurant or bar and your main lunchtime trade consists of people who normally work in the area. When they are back to work, (which is naturally the important bit in that scenario) you could target employees of specific organisations, do keep in mind that a number may be working from home within the next few weeks. Or for your evening meal trade, you could also target people living in your postcode, that have the profile of your target customer and promote your offers to get them into your premises or info on your takeout service.
So these are just a few of the ways you could promote your products or services to help you regain some ground while we speed through this busy Christmas period!
Wishing you all the very best of luck and if there's another area you'd like specific help with, feel free to email me (grace@gracecarlisle.co.uk) and I'll do another video and blog on that subject if I can.