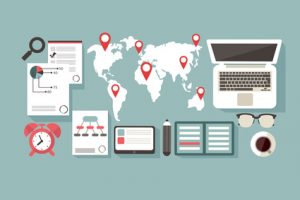 We live in an online era, we hear about the benefits and downsides every day, but do you know what resources you can use for free to earn money from home?  After using online tools and staring square eyed into various laptops over the years before making my switch to home business life, I thought I'd share my favourite free tools to build an international business from home.
There are so many ways to work from home including selling your services, freelancing your skills, creating products, being a virtual assistant, creating info products, writing a book, creating courses, consulting etc.  If you read my blog you'll know my preferred method is network marketing with a company called Forever Living.  One of my reasons for this is because they operate in a growing market sector (health and nutrition) across 158 countries and can deliver their tangible products to anyone in those countries while I get the commission in my bank account. Regardless of your chosen business model, hopefully these resources will be able to help you too.
Skype
Skype is perhaps the most obvious choice and it can be very handy, however in my experience if you're talking to a new user, it can take 40 mins to talk them through how to connect to you, checking web cams are installed or connected and then have the conversation cut short in the first few minutes due to not enough wifi in their area. This is even after they've installed it and think it's all working so it's not always as seamless as it first appears. They can also have an old version installed on their machine or be working either off the internet version or the app on their laptop, all of which have buttons in different places which makes it harder to talk them through. This can be disheartening when trying to communicate to someone who isn't tech savvy so there are alternatives!
Whatsapp
Whatsapp calls, this free app is used mainly as a messenger programme for friends, however when faced with needing to speak to someone on the other side of the world for business, it rarely disappoints and doubles up quite nicely to speak to them for free! Because it's only audio being up and downloaded, most wifi networks are able to handle it.
I combine this with an online presentation offered through one of the websites offered by Forever Living when I'm speaking to someone about my network marketing business. It lets me click through the images on my laptop from home, while talking to them at the same time. It also avoids the embarrassing video calls if they aren't comfortable or used to that. The downside of it is that you need their direct telephone number and this isn't always easy to get if you don't know the person and haven't built a trust yet having only connected in business over the internet.
Facebook calls
Facebook calls, If you don't have someones number, but you're connected to them online through Facebook, there's the call option there! This is also good to talk them through one of our online presentations as it can be done through their phone, while I click through my presentation on their computer or laptop.
Freelancing websites
If you sell your skills, there are lots of different websites where you can showcase your talents and look for people with interesting projects that fall within your remit. Odesk, People per hour or fiverr are all quite good. They're also great if you're wanting work done and don't know where to go to find someone with the right skills to complete it. You can decide what your total budget is and choose between the freelancers bidding for your project. I would mention however that you get what you pay for so don't always go for the lowest bidder. Look at their portfolios of work to see who you want to work with, check their responses to make sure they've read your description properly and are really capable of delivering the quality of work you are looking for.
What are your favourites?
That's it, these are my favourite online tools that I've used to build my business from home. The best bit is that they're all location independent, you can use them from anywhere as long as you have a phone or laptop which is what it's all about for me!  Please feel free to email me and share your favourites so I can add them in too!