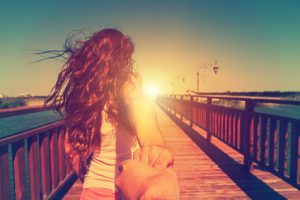 Now that New Years Resolutions feel like a distant memory, it's the perfect time to decide what you really want to accomplish this year.  The number one thing I hear most often is something that Santa can't fit down the chimney – time!  We all spend it but we can't get it back.
Before I started this business, I agonized over the decision of time versus money regularly.  As a self-employed marketer, I could work every hour and have money but no time, and when I did get more time to spend on holiday etc, it cost me twice because I wasn't working!  The last recession made me nervous of creating a system within my marketing business as I didn't want a team of people relying on me in time for the next recession to hit as marketing is often the first cost to cut when times are hard.  So I continued to feel like I was always working and missing all the important things in life.  My dad would regularly say "Gracie, you're so busy rushing through life, you're missing everything, please slow down pet!"  I would always reply with "It's ok dad, things will change, I'll soon not need to work as hard and get to visit more often."  But I eventually realised that if I didn't change, nothing else would either, So I started searching for a system that would let me be time smart and recession proof!  If you're reading this, you might be in a similar position of wanting to create more time and money to enjoy life's journey.
The way I see it you have three options.
Keep doing what you are currently doing and stay where you are.
If you're happy with where your life is right now and are comfortable so you don't need/want to have, be, or do more then this isn't a bad option.  You go to work, you receive a certain amount of money every month and you budget where that will be spent.  You have the same amount of time every month, you spend it however you do now and nothing ever changes.  If that makes you feel uncomfortable or (for me I felt sick to my stomach at the thought of it), then read on…
2. Ask your boss for a pay increase, or look for another job with higher earning potential/or less hours.
This might involve going back to night school and getting more qualifications so you can apply for a new job a year or two down the line, missing 2 nights a week with family, friends or hobby time.  Or, look around for other jobs that you can do with your current qualifications, so get the papers, look online, apply for jobs, go for interviews, and try to increase your salary that way.  If you want more time, try to make sure your larger salary doesn't come with more demanding hours and a longer commute.  Or, you could look for work that's nearer to home to save commuting time, although in this case, make sure you're not reducing your salary as you'll probably end up working more hours to make up for the shortfall!
3.  Start your home business in part-time hours alongside your current work and family life.  Everything else stays the same until your business grows enough to decide if you still want to work full-time.  We support you each step of the way and you follow a blueprint that has been working for 39 years so far.  (You get free holidays and a car plan with this option aswell)
How is this possible?  Let me explain, you spend as little as 3 hours a week (or as much as you want if you need faster results) growing your new income, meeting new people and changing your work life balance for the better.   The blueprint is designed to allow you to make money from the start, there's no waiting time of 3 to 5 years to break-even like there is in traditional business.  You instantly make a commission on the products they manufacture and deliver to on your behalf as soon as your account is open!
If you are used to the theory of working one hour and getting paid for that one hour?  try this – You get paid over and over on the same activity because these products are consumable!  So, finding a customer once can generate an income again and again.  You can even help them order online from any of the 158 countries we are in!
Used to the theory of you doing all the work to just get paid on your own work, not work generated by people on your team, even if you trained them and showed them what to do?  try this – You receive an increasing income when you show other people what you do, without you having to spend more and more time doing all the work yourself.  So, you spend the same amount of time each month, but your income grows because you spend some of that time showing other people what you do.  Can you imagine replacing your 40 hour a week job with a 10 hour working week business because you worked smart and followed a blueprint?
If you chose option 3, please get in touch and I can help you with more information or to get started.  You can see from the third scenario above that it's in my interests to help you get your business off to the best start.  I have a number of tools to help you get started wherever you are based in the world.  Click here to email me now.