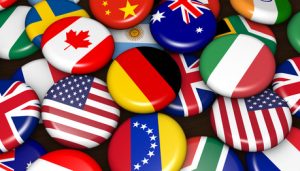 One of the benefits of an international business that I enjoy is the ability to generate international payments! I can receive a payment not just from the country where I live, but because I'm creating a system, it is working 24/7 so I don't have to.
Like any new business, the majority of the work is done in the beginning, setting it up and getting the momentum going. However once that's done and you've learnt how to do it, it can be a 'rinse and repeat' anywhere in the world.
Because of the nature of the business I enjoy the most, (network marketing) if anyone I've helped to set up has international contacts, my income increases from that country too. I may have never set foot in it, however as their business grows and develops, mine does too!  If you use Facebook, you can see how easy it is to connect with people in different countries.  Show them a way to generate an extra few hundred pounds/dollars/euros a month and they will create another system in the country where they live too!!
If you read my blog regularly, you'll probably know that I work alongside a company called Forever Living, who have been going for almost 40 years and are in 158 countries around the world. In the early years, people had to drive all over the country to meet new people and get them started in their business. However now we have online presentations, which is handy for people living 100 miles from me and essential for people living 1,000 miles away. Skype can be handy if the connection on both sides is good, however I tend to use a mix of webinars whatsapp calls and messenger services too.
We are all well versed in the traditional 9-5 working week, you get paid for 40 hours a week and trade those hours for enough money to exist in the remaining hours of the week.  There's a statistic that in most developed countries, we could all be homeless if we didn't work for 3 months.  This scared me when I heard it first, mostly because I was in that category too!  I didn't have enough saved to cover my overheads for more than 3 months but so many people every week get caught in that exact trap and then what happens?! It's even harder to get a job, to be respected and everything could slip away very fast!
This is another benefit to an international business – you see, the hours you can work at the moment are the hours when you can generate an income, but what if those hours extended beyond 9-5 but didn't involve you working longer hours?  What if people could purchase things from you online, from over 158 countries?  That would make you commissions around the clock!  So your working week just grew from 40 hours to 168 hours a week!
The countries in the opposite hemisphere could be your new favourite in this scenario, because when you're sleeping, they're generating income for you!
The beauty of consumable products – available globally
You may have heard that the next trillion dollar industry is health and wellness.  If so, then you'll know this is a growing global industry ~(and a good place to have a business).  What if you were to have access to over 200 products that were consumable so they ran out and people would order them again to keep enjoying the benefits of feeling healthier, having more energy, achieving their goal weight, enjoying a healthier lifestyle.
Now, combine that with your online shop and you have a global business that is in the right place at the right time!!
Not sure how you'd promote it?  That's the easy bit, if you can use Facebook, I can show you how to promote your business with Forever Living online for free.
So, you have two sides to this scenario from the perspective of working alongside Forever Living's blueprint.  You can show people in different countries how to do what you're doing locally and they do the same thing, generating an extra income for you from that country too.  Or, you can generate residual sales by selling the products direct to people in any of the countries where this company operate.  Because they are in 158 countries, they work with the governments in each country and keep stock locally, so if someone in that country orders it, it's delivered to their door within a few days, while the commission is allocated to my account.  I love that I don't need to worry about logistics, export duties, laws or regulations because they have already created products compliant with the regulations of the area they are being sent to.
If you are in another line of business, you wouldn't receive the same blueprint, or websites provided by the company but the principles are the same.  If your products are downloadable like info products, it saves you on delivery and logistics, so if you have tangible products, you would need to research postage options, and items mentioned above for the countries you are interested in targeting.
If you want to find out how to start your very own international business today, just contact me and I can share the information with you that is relevant in your country to get you started right away.