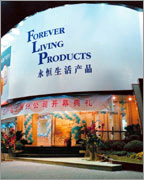 If you would like to start your Forever Living business in China, you will need to contact the head office there directly as I cannot sponsor a new team member internationally into China.
The contact details of the Forever Living head office in China are shown below:
Forever Living Products China Ltd.
Room 901 Huayuan Evolution Building
No.639 JianGuo Bei Road
011-86-0571-28938555
011-86-0571-28030877
office@foreverliving.net.cn
How to join Forever Living in China
To start a home business with Forever Living in China, please read the company policy document and get in touch by emailing me with any questions.
Please fill in an application form and send to the address shown.
Forever Living China Distributor Application Form
Once your Forever Living account has been created and you are a Forever Living Business Owner, you will have access to a list of all upcoming training and events in China from your online back office.  You will also have your own online shop, where people can purchase products locally or internationally using your ID to earn you commission which is paid directly to you each month.
If you would like further information on how to join our Forever Living team in China, please click here to email me.