I'm all into things that make life easier and when those things help you take control of your health – let me tell other people too!
This isn't just for people who want to lose weight, lots of people just want to be aware of what they're putting into their bodies!  So I just wanted to share three apps you can download free to let you track what calories you're eating and help you with healthier choices once you're more aware of the nutrients you're consuming or lacking in your daily diet.
If you are trying to lose weight, as long as you understand not all calories are equal; (ie a 500 calories of chocolate won't give your body the same nutritional fuel as 500 calories of wholesome food).  Counting calories can be one of the most effective ways to achieve weight loss when combined with exercise, but it can be time consuming and require attention that sometimes is split between a million other things so, here are just 3 different apps that help you track your calories to make it as easy as possible!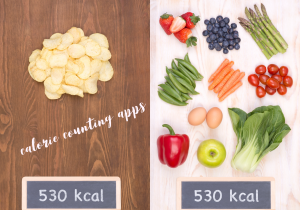 1. 'My Fitness Pal' is great and free with 'in app purchases'. It works out your calories when you input your consumption and tracks the calories you've still to consume that day. It breaks down what you've had by protein, carbs and fat.
2. 'Lose it' also contains a user friendly food diary and exercise log. It lets you connect a pedometer so you get an all round overview. It gives you recommendation for calorie intake based on your weight height age etc too.
3. 'Fat secret' is another recommended app, it's free which is always a benefit and includes a food diary, recipes, exercise log and journal. Reviews show its user friendly and has a chat community.
If you have an app you'd recommend or an easy way you use to track calories, please comment it below to share your tips with others in our community!
Please comment below with your favourite calorie counting apps or your fav ways to track your calories!
If you like topics like this, you might enjoy being part of our online Facebook Group Community where our mission is to help people look and feel better!
Join our Facebook Community & stay in touch!