I
recently read an article on the benefits of decluttering and who wouldn't appreciate a clutter free home!
I know it's not something you were maybe expecting to read about in here but a 'healthy journey' includes a little declutter now and again So I thought it might be valuable to mention it!
One way to be more productive and think with more clarity is to clear the clutter that bogs you down in your everyday surroundings!
Rather than bogging you down with detail, I'm keeping this blog quite short and including a little challenge aswell!   (Simply declutter the space in your home where you spend the most time!)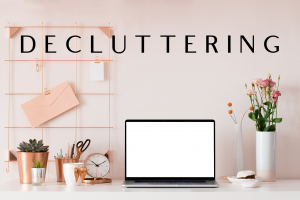 If you work from home; clear your desk!
If you are an avid gardener, declutter your greenhouse.
If you're an equestrian enthusiast, declutter your tackroom!
If you have kids – I don't want you to lose a weekend decluttering – just do a quick declutter job on the car!!!
If you're so exhausted you collapse in front of the tv at night, declutter your living room!
That's it! I'm not asking for photos, just let me know if you felt better after it was done!
Having moved house in May, we still have three rooms that I'll diplomatically name 'storage rooms'. so I feel like a recovering hoarder as I take on this challenge too!! Wishing you all the very best of luck!
If you like topics like this, you might enjoy being part of our online Facebook Group Community where our mission is to help people look and feel better!
Join our Facebook Community & stay in touch!